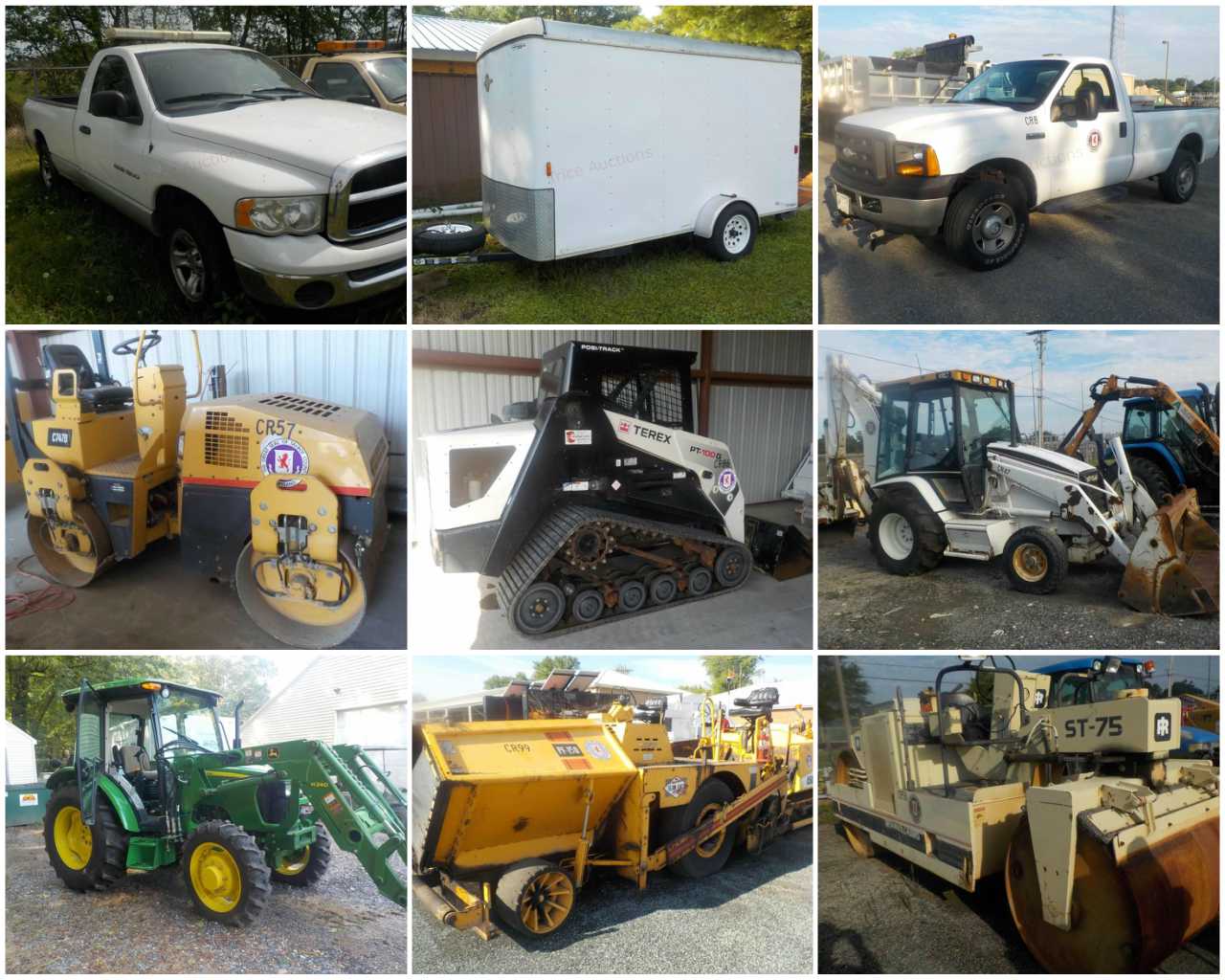 Construction Equipment, Farm Equipment and Trucks
Auction Starts Closing September 12 @ 10:00 am
A lot closes every 15 seconds until no lots are left, if a bid is placed in the last 2 minutes on a lot that lot will be extended another 2 minutes. Preview and Pickup Location

Easton, MD 21601

Preview Date/Time
Talbot County Road Department Preview Lots 1 thru 13 Sept. 6th between 9am & 12pm All other lots please call Tommy at 410-310-3192 for preview

Pickup Date/Time
Please contact Tommy at 410-310-3192 to schedule a pickup date and time, items must be removed with in 1 week from auction closing. Items must be paid for within 48 hours


Please notice that there is a public preview for the first 13 lots and the other lots you must schedule a preview via calling Tommy at 410-310-3192

Lots 1 – 13 can be previewed Sept. 6th between 9am & 12pm at 605 Port St, Easton, MD 21601, if you try to access this location at any other time, trespassing charges may be filed.

2004 Chevrolet Silverado V6, 2000 Ford 4×4 1/2 Ton F150 V6, 2006 Ford F250 4X4 Pickup XL V8, 1999 Caterpillar 416C Backhoe Loader, 2004 Ingersoll Rand Roller ST-75, 2002 HyPac Roller C747B w/ Roll Guard, 2004 LeeBoy 8500 8-15 Paver Trac, 2013 Terex ASV PT100G Trac Loader w/ 72″ Bucket, 1998 Hydraulic Truck Edger w/ Wheel Adjustment, Bradco 72″ Skid Steer Sweeper Attachment, Universal AP-450III 18″ Milling Head, Blaw-Knox PF-150 Paver, Asphalt Zipper AZ480S, 2014 John Deere 5505E – H240 Loader Forks & Bucket, 2007 Carry On Cargo Enclosed Trailer 12′ x 6′, 3 PT Bush Hog Blade 7′, 100 Gallon Fuel Tank w/ 12v Electric Pump, EZ GO Electric Golf Cart, 4 John Deere suitcase weights, Allis Chalmers suitcase weights, Chevrolet 1/2 ton long bed pickup, Dodge RAM 1500 long bed pickup

Please notice this auction has 3 different locations, with 1 location having a public preview.