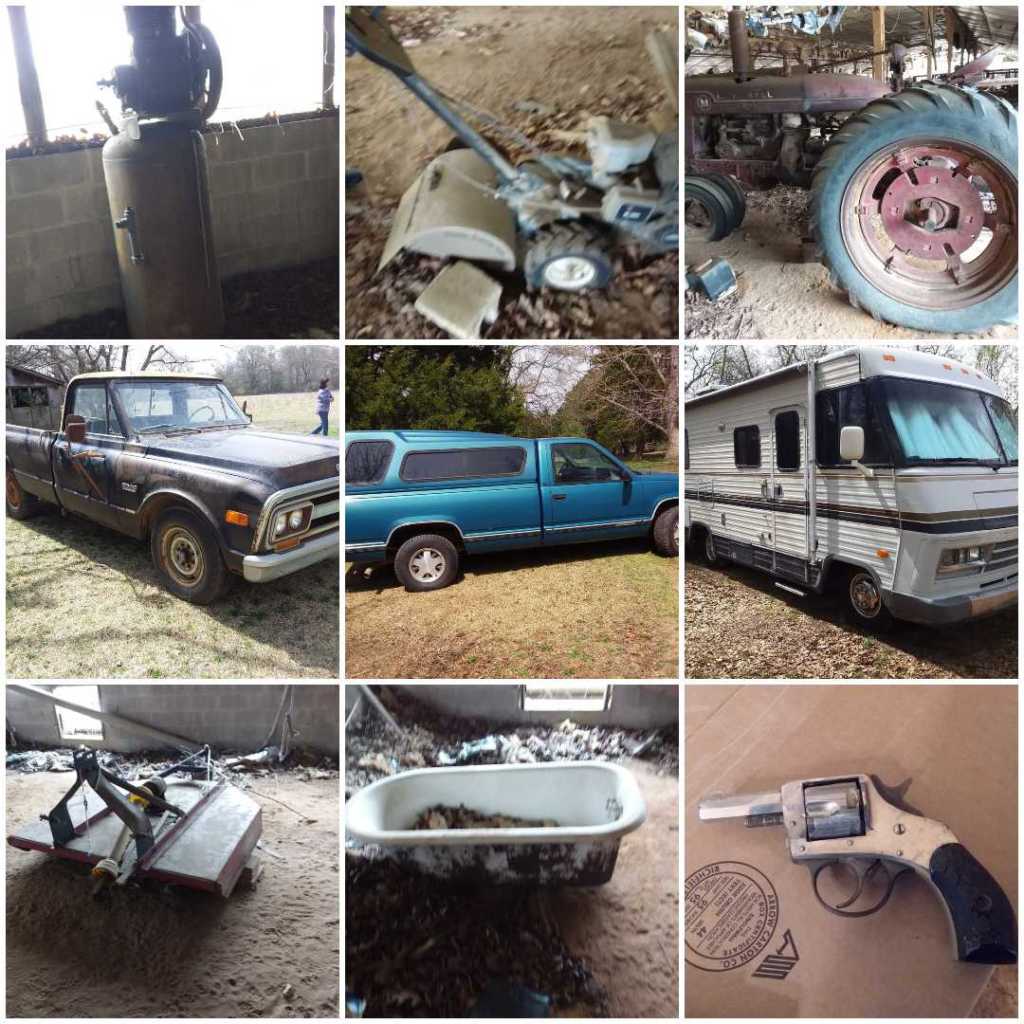 4/27/19 – The Estate of Mr. Lloyd Hopkins Auction 329
April 27 @ 10:00 am
6244 Herrington Lane
Preston, MD 21655

Preview Date/Time
Morning of the auction

Pickup Date/Time
Day of the auction


Vehicles/Campers– 1976 Terry Camper Trailer Class G, 1984 Winnebago Sunflyer Motorhome, 1996 GMC Sierra SLE 1500 Pickup with cap (clean, no rust, runs), 1971 GMC Custom 2500 pickup 4 speed stick shift (needs work), wooden camper top, Tempest body parts

Tools– Assorted hand tools, screwdrivers, wrenches, saws, Poulan chainsaws, STUD wood lathe, Duro Planer, Shopmate Grinder, Craftsman Chopsaw, Sawhorses, aluminum 40' extension ladder, Pipe Bender, Air compressor, Tractors, Implements, Mowers- Farmall M tractor serial# 53093, 3point hitch rear lift, 3point hitch 7ft economy scrape, Pull type 2 row JD corn Planter, HOWSE mower deck Hi-Co Ag-Mo 5,Solid wheel pull type cultipacker, 2 row International cultivator, 4 row JD corn planter, pull type 4bottom cultivator Case?, 1 row transplanter, Craftsman 2000 riding mower runs, Agway 4 speed automatic 834 riding mower, Gravely parts, Craftsman 800 series rotary tiller and more

Farm Items– chicken house feeders, nesting box, pig crate, Ford irrigation pump, wooden snow fence, 275 gal fuel tank, peach baskets, pancake stoves, bathtub/trough, glass top plastic bottom chicken waterers, folding wooden crates, metal fence posts, irrigation couplers and pipe, feed cart, muskrat traps, Hide stretchers and more

Yard– Martin houses, Gourds, Red bricks, Cinder blocksBird feeders, wooden pillars and cornices, firewood and more

Vintage– Jars, Bottles, Kitchen Table, bicycles, RC Cola thermometer and more

Guns– Stevens 987 22 rifle, Young America double action 32 pistol

---

Terms & Conditions: All items are being sold as is where is without warranty or guarantee. Announcements made the day of the sale take precedence over all advertising previously printed. Payments & Info: Cash, credit & good check the day of sale with proper ID (checks over $5000 require a letter of credit from the bank). 3% fee for credit/debit cards. 10% buyer's premium on all bids.