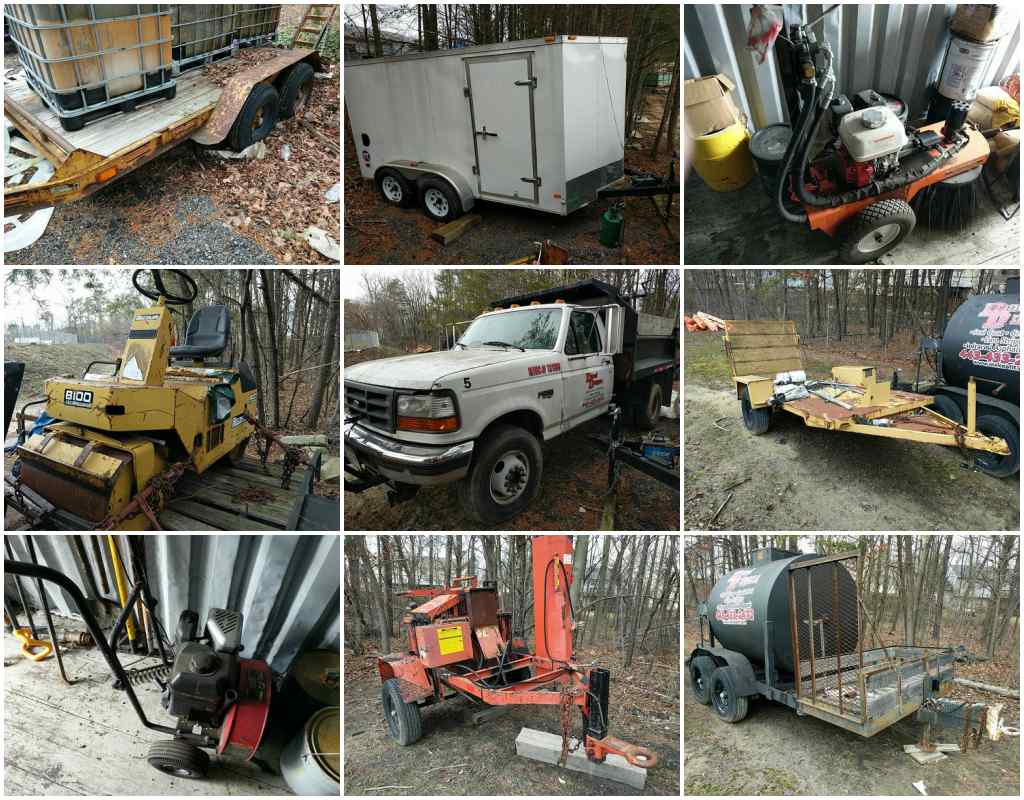 Sealing Coat Company Liquidation
Auction Starts Closing April 25 @ 11:00 am
A lot closes every 15 seconds until no lots are left, if a bid is placed in the last 2 minutes on a lot that lot will be extended another 2 minutes. Preview and Pickup Location
1450 Grimm Road
Severn, MD 21144

Preview Date/Time
Tuesday April 24, 2018 9am to 12pm

Pickup Date/Time
Thursday April 26, 2018 9am to 1pm


Click the

"VIEW CATALOG"

button to browse the online catalog and bid

All bidding takes place online * Don't forget to join us for a LIVE PREVIEW

---

**PLEASE READ** No title will be provided the winning buyer will be provided a Bill of Sale w/ a Court Case Number. The winning bidder will be responsible for filing a writ of mandamus to get a title. Trice Auctions makes no guarantee that a title will be granted as this is the court's decision. Please read more here https://www.peoples-law.org/mandamus-correcting-public-recordcourt-ordered-vehicle-titling

Auction Features: 1997 Ford Super Duty F250 7.3L, 12′ x 7′ Wells Cargo Trailer, Tandem Axle Trailer w/ 500gal tank, Single Axle Trailer w/ 250gal tank, Hudson Tandem Axle Equipment Trailer, Beuthling B100 Smooth Drum Roller, Neal MFG Seal Coating Applicator Machine, Falcon Mini Asphalt Recycler & Hot Box Slip-In, 12′ x 5′ Single Axle Neal Trailer, 16′ x 5′ 6″ Trailer w/ Tank, Cleasby Pumping Tar Kettle trailer, 10′ x 7′ Tandem Axle Trailer, 11 Cones, Rochester Rotational Safety Barricade System, Northern Industrial Tamper w/ Honda Engine, Misc Propane Tanks, Road Paint Stencils, 3 Liquid / Water Tanks w/ Cages, Large Propane Tank, Graco Parking Painters, Buckets of Paint, Misc Sprayer Parts, Ropes & Tapes, 24″ Walking Sealer, Crack Sealer w/ 3 Boxes of Tar, Crack Sealer w/ 2 Boxes of tar, Assortment of Tools, ARS Asphalt Reheat System 46″ x 46″, Misc. Lot – Gas Cans, Glass Beads, Tools & more, Tar Pot, Bensink Rotary Broom Model RBHGX, Little Wonder C5 SP170 Blower, Billy Goat Blower Honda GX390, Giant Vac Classic 6.0 HP, 2 Heat Blowers (no tanks) and Sea Container 20′ x 8′

---

Terms & Conditions: Trice Auctions Bid Terms: Upon registration, bidder accepts terms of this auction. 1. Registration required with valid credit card. 10% Buyers Premium. We will give you the option of paying with cash or debit/credit card on pickup day. There is a 3% convenience fee when paying with credit card. Maryland State sales tax of 6.0% will be charged for purchases unless a valid Maryland tax identification number is provided with payment, in Maryland you must spend over $200 for a tax identification number to be valid 2. Before you bid, know that items are required to be removed from the Auction Location on the designated pickup day. Items not picked up on designated pickup day will be charged on your credit and are subject to be considered abandoned, if you credit card is denied and you do not pay within 24 hours you will be refused the right to bid on any auctions. 3. The auction company shall not be held responsible for any "miscued" bids by bidder. IE: Decimal in the in wrong place, you bid on the wrong thing, the cat jumped on the keyboard, etc. 4. All sales are final. Trice Auctions has put forth every effort in preparing the catalog for this auction to provide accurate descriptions of all items. All property is sold "as-is" and it is the bidder's responsibility to determine the exact condition of each item. You may call if you have any questions not covered in our descriptions or pictures. We welcome you to call if you are not able to make it to preview for your own viewing. Printed statements or descriptions by staff are provided in good faith and are matters of opinion. Absolutely NO refunds will be offered. 5. By bidding on any item, the bidder shows acceptance of the terms of the auction. 6. The auction company reserves the right to refuse service or decline registration to any person. 7. Items not pickup are considered abandoned and become property of Trice Auctions, unless Trice Auctions is contacted prior to the pickup date and time window. 8. When removing the lots you have won, you MUST remove the complete lot no picking and leaving what you do not want. 9. Please show up so that you have ample time to remove your items before the ending of the pickup time, we will not stay past the pickup time window.

Trice Auctions or the property owner is not responsible for accidents or losses while on sale property. Terms on bidding site take precedence over any listed terms on this site.