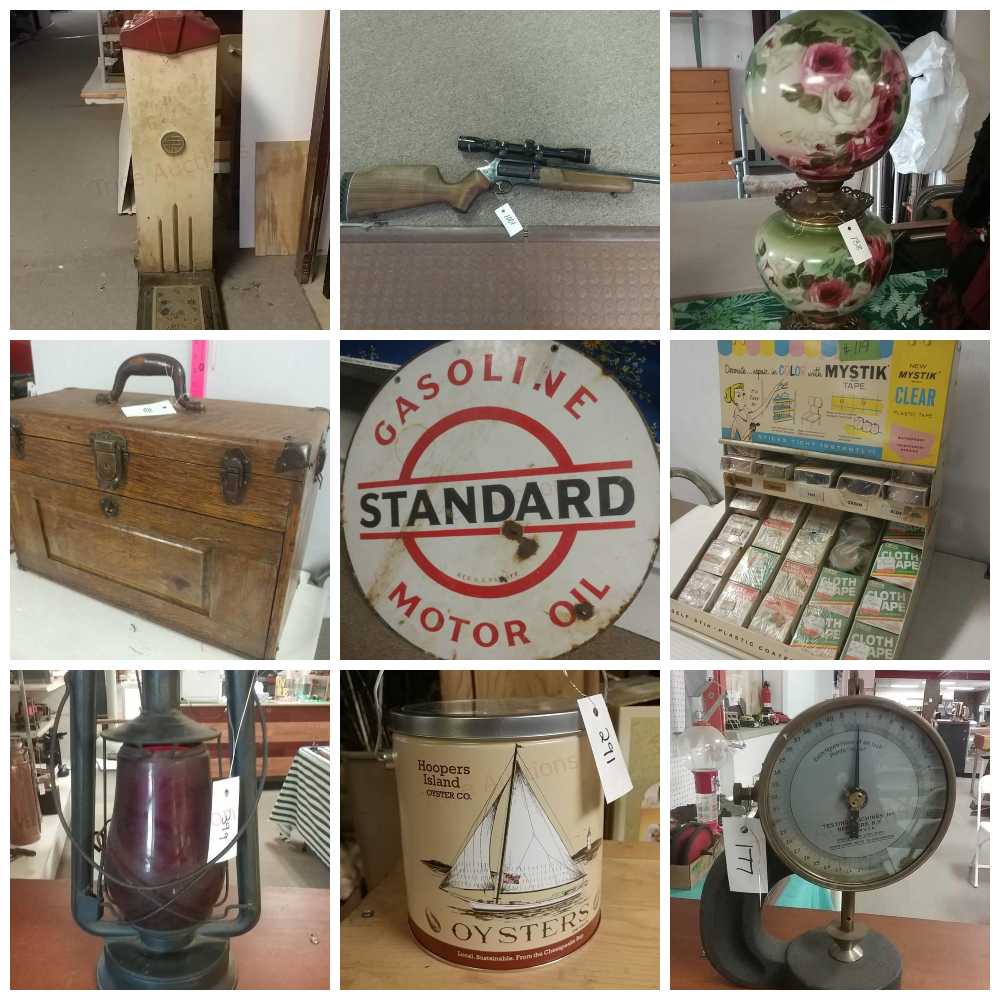 3/31/19 – 2 Estates Americana Collection, Guns, Lamps & More
---
Live Auction w/ Internet Bidding is March 31, 2019 @ 11am, online bidding can take place before and during the live auction. Ring 2 will start @ 11:30am with NO internet bidding
LAMPS/VASES – Larkin Gone with the Wind Lamp 14" tall 11" globe, 24" Gone with the Wind (roses), 22" Gone with the Wind green w/pink and lavender peonies, 2) Phoenix red half shade lamps, Celluloid front photograph book, 5" vase w/Sheik, 3 1/2" green vase w/Sheik, 9 ½ vase w/handles orange blue and brown flowers Nippon, 9 ½ vase w/orange poppies, 10" Japan handles vase w/roses, celluloid box, Stereoscope w/27 cards, Germany dish embossed w/roses and pipe, wick cutter, Old Cupid pictures, 25" Victorian doll.
GUNS: Savage Model 11 308 Win mag w/Nikon 308 Scope NIB, CVA Optima .50 cal Black powder w/Bushnell elite scope, Remington 880 Wing Master w/extra 30" barrel 12 ga., Winchester Model 94 30.06 lever action, Belgium Browning semi-auto 12 ga., Remington Sportsman 48 12 ga. semi-auto and MORE!
MEMORABILIA – Clark ONT spool cabinets, wood planes, draw knives, washboards (glass and metal), various scales (hanging, store and meat), butter churns, meat grinders, school bells, farm/dinner bell, cow muzzle, hand seeds, hand planters, machinist tools and cabinet, Seth Thomas schoolhouse clock, Little Brown Thermos jug and other metal thermos jugs, Cream separator, Valiant spare tire cover, misc. wooden boxes and crates, various lanterns, coal oil lamps, 5 gal Sinclair gas can, 30" porcelain double sided Standard motor oil gas sign, American Duplex coffee grinder, brass fire siren, pt crock, Planters jar, Tint and Dye Display cabinet, Mystic tape display, old agate coffee pot, large barrel butter churn, cork decoys, old ox yolk, old juggling pins, magic maid bowl, sterling candlesticks and S&P, old tools/bits, ice tongs baby sled, cane w/seat, goose automobile hood ornament, serving tray w/Fox hunter scene, carrom board, triple beam scales, a lot of old furniture w/nice bones!! Impossible to list every item!!!! This is only a partial listing; this sale will be LIVE and ON-LINE (not all items will be listed for online purchase).
---
items are Sold AS IS, WHERE IS, with NO WARRANTY! By placing a bid you are entering a legal contract with Trice Auctions that you will be paying for the items that you win. 10% Buyer's Premium on all bidding. Example if your winning bid is for $100.00 you will be billed $110.00 plus sales tax is applied. 3% convenience fee for credit & debit card payments. Items not picked up on the scheduled pick up/loadout day will be charged to your credit card on file. After 5 days items become the property of Trice Auctions and will be sold. NO REFUNDS OR CREDITS! ALL SALES ARE FINAL! Remember there is a 6% sales tax on auctions in Maryland. Tie bids between a live (floor) bidder and internet bidder will go to the live (floor) bidder