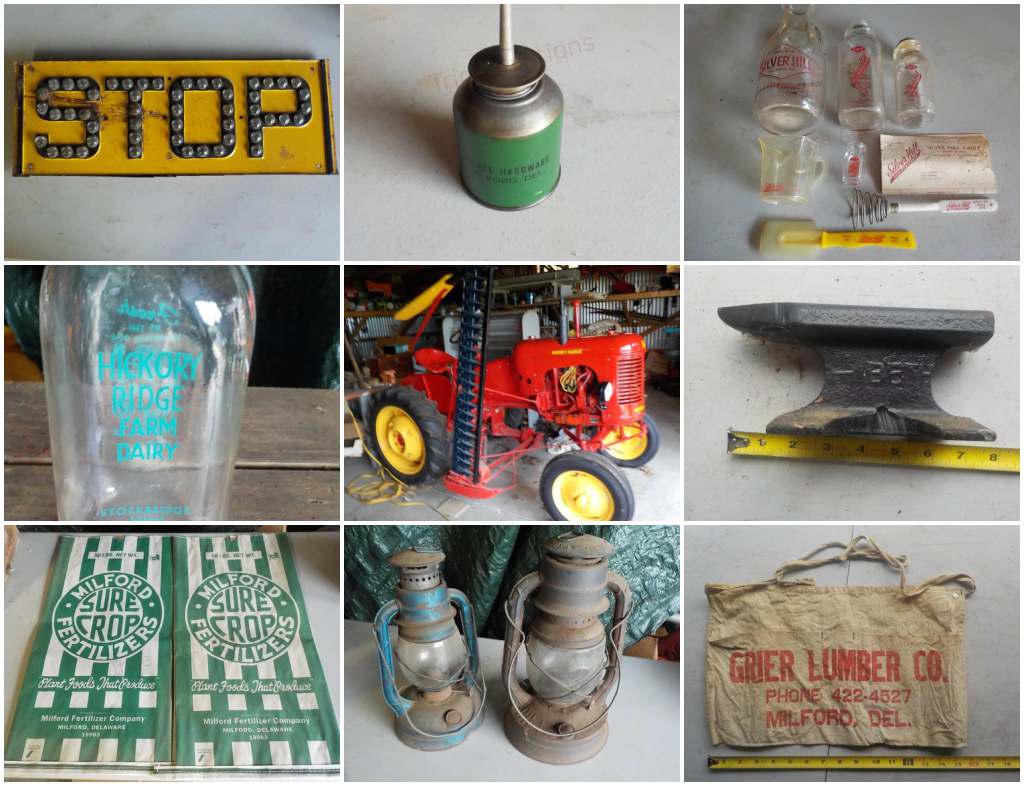 Farm & Americana Memorabilia Collection of Mr. Potter Day 1
Day 1 Lot 1 to 450
Link to Day 2 Auction Lot 451 and up
Advertising – Including a lot of local pocket ledgers, small oil cans (including McCormick-Deering, IH,
JD,Railroad, brasstop and many local advertising pieces), Milk jugs (Maryland, DE including Frear of Dover, Michigan, Silver Hill Dairy Set), Egg Scales (Jiffy-way, ACME and more), Poultry Memorabilia, Feed Memorabilia, , Ice Cream Scoops (Gilcrest, Williamson, Delvale, KW), Pocketknives, Pencil/Bullet Pencils, Can Openers, plastic banks, Measuring tapes, rain gauges, a lot of cast seats, ice tongs, flyswatters, nail pouches.
Other – Apple picker, Collapsible picnic basket, sythe, a lot of Lanterns, old tools (drills, saw knife, corn knives) hay hooks, cow bells w/leather straps, MOLDS – cast molds Bear, Corn, ring, Banana, Deer, Flower and MORE! A lot of local "club" baskets (First State Antique Tractor Club, JD, Delaware State Fair
Signs – Rectangular STOP sign w/reflectors (possibly railroad) and more
Cast Iron Seats
This is only a very small listing; a total of over 800 items will be posted online.