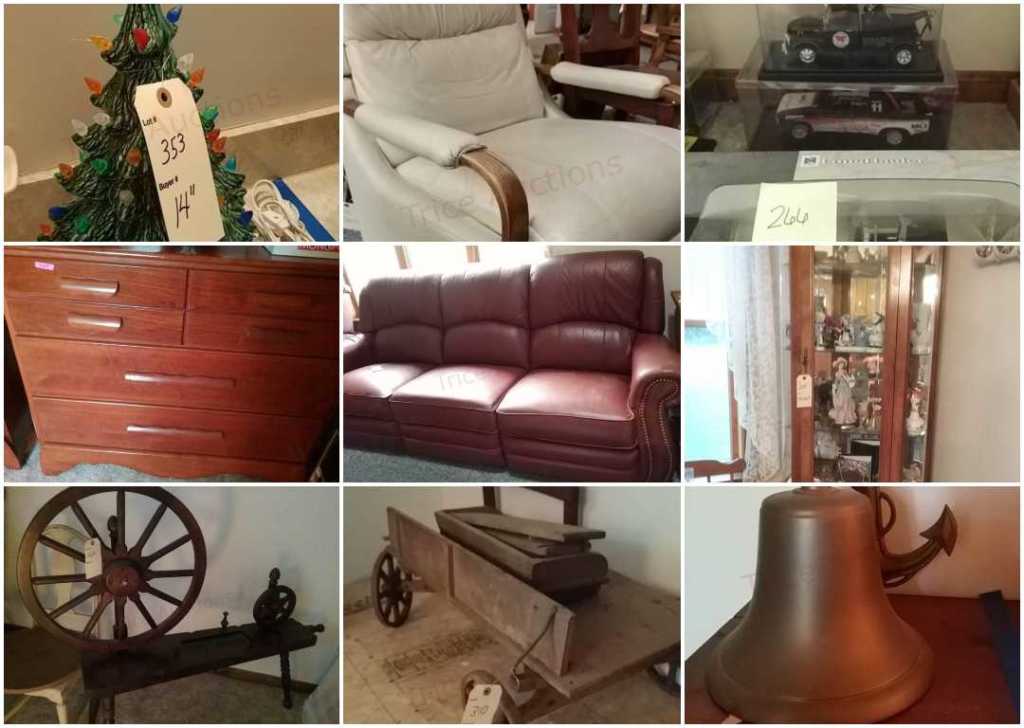 9/7/18 – Estate of Ronald Kubernac in Exmore, VA
Click the

"VIEW CATALOG"

button to browse the online catalog and bid
All bidding takes place online * Don't forget to join us for a LIVE PREVIEW
---
We are honored to offer the Estate of Ronald Kubernac in Exmore, VA for public auction.
This is just a partial listing of household items
Beautiful matching reclining leather sofa and loveseat, oak kitchen table w/6 chairs, patio table set and porch décor, beds & dressers, matching end tables, lovely (handmade by Mr. Kubernac) cobblers bench coffee table, mahogany drop leaf side table, fireplace andirons and ash bucket, Kenmore canister vacuum, drop leaf harvest table, La-Z-Boy leather ladies rocker, miscellaneous occasional chairs and side table with leaves, pencil sketch of Exmore train station, various unique chicken décor, Precious Moments spice pots w/shelf, Framed Somers Delight Canning label, cast melting pot, Lance Cracker jar, various kitchen and utensils, Pyrex dishes, antique prism candleholders and others, vintage dining room set w/6 chairs with matching china cabinet, new Kwikset locks, a lot of glassware, curio cabinet w/contents and corner curio no contents, Antique tin cigar boxes, Lincoln Logs, ginger jar, Life Smart heater, vintage woven hamper, books referencing Eastern Shore, (2) nice Victorian parlor sofas, tons of books of all kinds, pickup replicas, Antique Singer sewing machine and cabinet, treadle sewing machine, a lot of Precious Moments pieces, wingback parlor chair, Winterroth & Co. New York piano and bench, antique wooden wagon appears to be all there, cast iron pitcher pump lamp, lots of vintage bottles, aluminum ladder, holiday décor, spinning wheel, wall shelves, medical lot, GE washing machine and dryer, large cast iron caldron.
---
Terms & Conditions: Trice Auctions Bid Terms: Upon registration, bidder accepts terms of this auction. 1. Registration required with valid credit card. 10% Buyers Premium. We will give you the option of paying with cash or debit/credit card on pickup day. There is a 3% convenience fee when paying with credit card. Virginia State sales tax will be charged for purchases 2. Before you bid, know that items are required to be removed from the Auction Location on the designated pickup day. Items not picked up on designated pickup day will be charged on your credit and are subject to be considered abandoned, if you credit card is denied and you do not pay within 24 hours you will be refused the right to bid on any auctions. 3. The auction company shall not be held responsible for any "miscued" bids by bidder. IE: Decimal in the in wrong place, you bid on the wrong thing, the cat jumped on the keyboard, etc. 4. All sales are final. Trice Auctions has put forth every effort in preparing the catalog for this auction to provide accurate descriptions of all items. All property is sold "as-is" and it is the bidder's responsibility to determine the exact condition of each item. You may call if you have any questions not covered in our descriptions or pictures. We welcome you to call if you are not able to make it to preview for your own viewing. Printed statements or descriptions by staff are provided in good faith and are matters of opinion. Absolutely NO refunds will be offered. 5. By bidding on any item, the bidder shows acceptance of the terms of the auction. 6. The auction company reserves the right to refuse service or decline registration to any person. 7. Items not pickup are considered abandoned and become property of Trice Auctions, unless Trice Auctions is contacted prior to the pickup date and time window. 8. When removing the lots you have won, you MUST remove the complete lot no picking and leaving what you do not want. 9. Please show up so that you have ample time to remove your items before the ending of the pickup time, we will not stay past the pickup time window.
Trice Auctions or the property owner is not responsible for accidents or losses while on sale property. Terms on bidding site take precedence over any listed terms on this site.