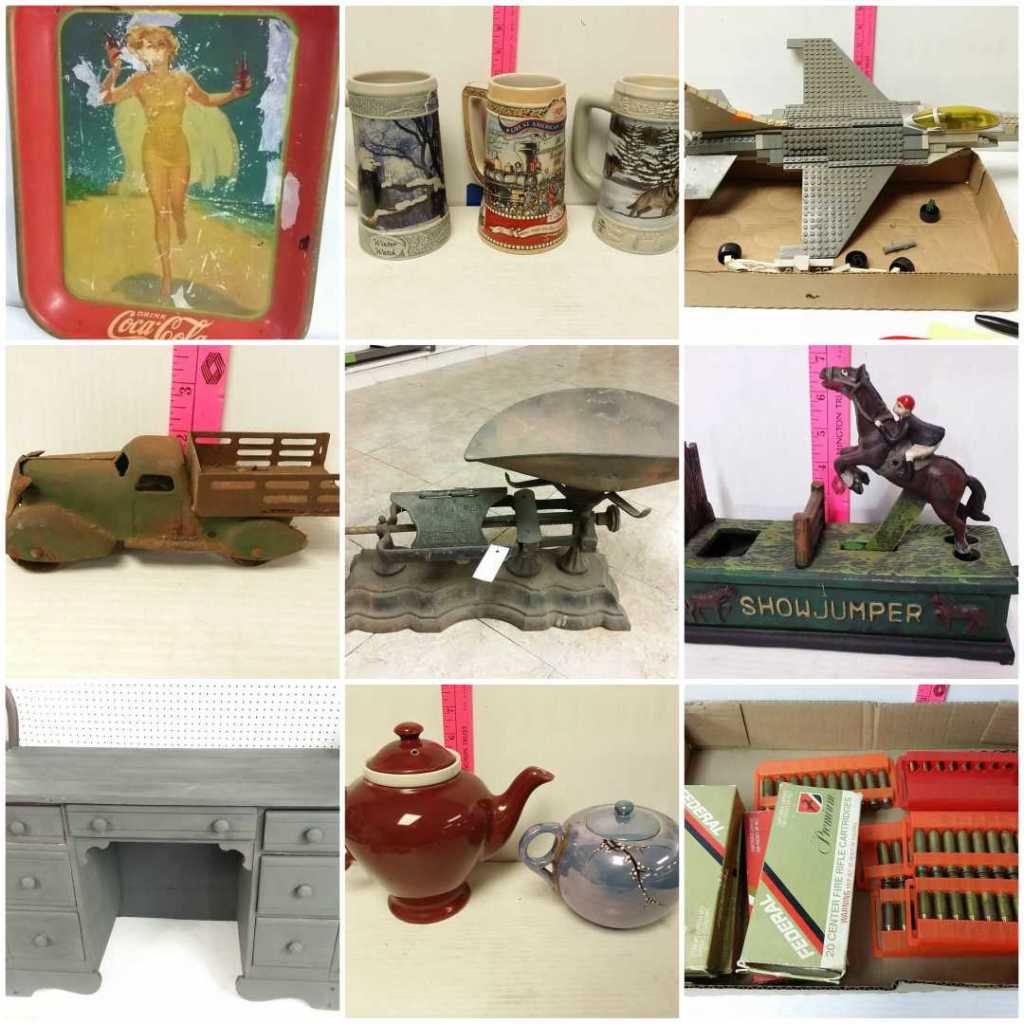 Combined Estate & Consignment Auction – Vintage Toys, Vintage Electronics, Furniture, Glassware & more
Click the

"VIEW CATALOG"

button to browse the online catalog and bid
All bidding takes place online * Don't forget to join us for a LIVE PREVIEW
---
Coca-cola advertising trays, glassware, oil lamps, home decor, vintage scales, silver plated items, toothpick holders, tea sets, vases, wash basins, figurines, iPod's, Girl Scouts collectibles, flatware, Christmas decor, Hess Trucks, cassette tapes, stamps, NASCAR die cast models, NASCAR Collectibles, Disney collector glasses, toy banks, quilt, vintage cameras (Polaroid), vintage board games, Nintendo Game boy Color w/ games, Nintendo Gameboy Advance w/ games, Nintendo N64 Games, picture frames, decanters, beer steins, Modern Children Books, jewelry, watches, tin & cast iron toys, Easton National Bank metal bank, Vintage salt & pepper, die cast toy, Antique Jacobs Gram Scale, Dayton Computing Scale, Hawthorne Village, Micrometer scale by Dodge MFG Co., Antique US Horse Blinders, Vintage & Collectibles AMMO, Legos & Mega Blocks, Disney Dolls, Charlie Chaplin Porcelain Doll, Beanie Babies, Fisher-Price Briarberry Collection Dolls, Star Wars Toys, Furniture and much more. This is a truly AWESOME auction with lots of different and unique items.
---
Terms & Conditions: Trice Auctions Bid Terms: Upon registration, bidder accepts terms of this auction. 1. Registration required with valid credit card. 10% Buyers Premium. We will give you the option of paying with cash or debit/credit card on pickup day. There is a 3% convenience fee when paying with credit card. Maryland State sales tax of 6.0% will be charged for purchases unless a valid Maryland tax identification number is provided with payment, in Maryland you must spend over $200 for a tax identification number to be valid 2. Before you bid, know that items are required to be removed from the Auction Location on the designated pickup day. Items not picked up on designated pickup day will be charged on your credit and are subject to be considered abandoned, if you credit card is denied and you do not pay within 24 hours you will be refused the right to bid on any auctions. 3. The auction company shall not be held responsible for any "miscued" bids by bidder. IE: Decimal in the in wrong place, you bid on the wrong thing, the cat jumped on the keyboard, etc. 4. All sales are final. Trice Auctions has put forth every effort in preparing the catalog for this auction to provide accurate descriptions of all items. All property is sold "as-is" and it is the bidder's responsibility to determine the exact condition of each item. You may call if you have any questions not covered in our descriptions or pictures. We welcome you to call if you are not able to make it to preview for your own viewing. Printed statements or descriptions by staff are provided in good faith and are matters of opinion. Absolutely NO refunds will be offered. 5. By bidding on any item, the bidder shows acceptance of the terms of the auction. 6. The auction company reserves the right to refuse service or decline registration to any person. 7. Items not pickup are considered abandoned and become property of Trice Auctions, unless Trice Auctions is contacted prior to the pickup date and time window. 8. When removing the lots you have won, you MUST remove the complete lot no picking and leaving what you do not want. 9. Please show up so that you have ample time to remove your items before the ending of the pickup time, we will not stay past the pickup time window.
Trice Auctions or the property owner is not responsible for accidents or losses while on sale property. Terms on bidding site take precedence over any listed terms on this site.