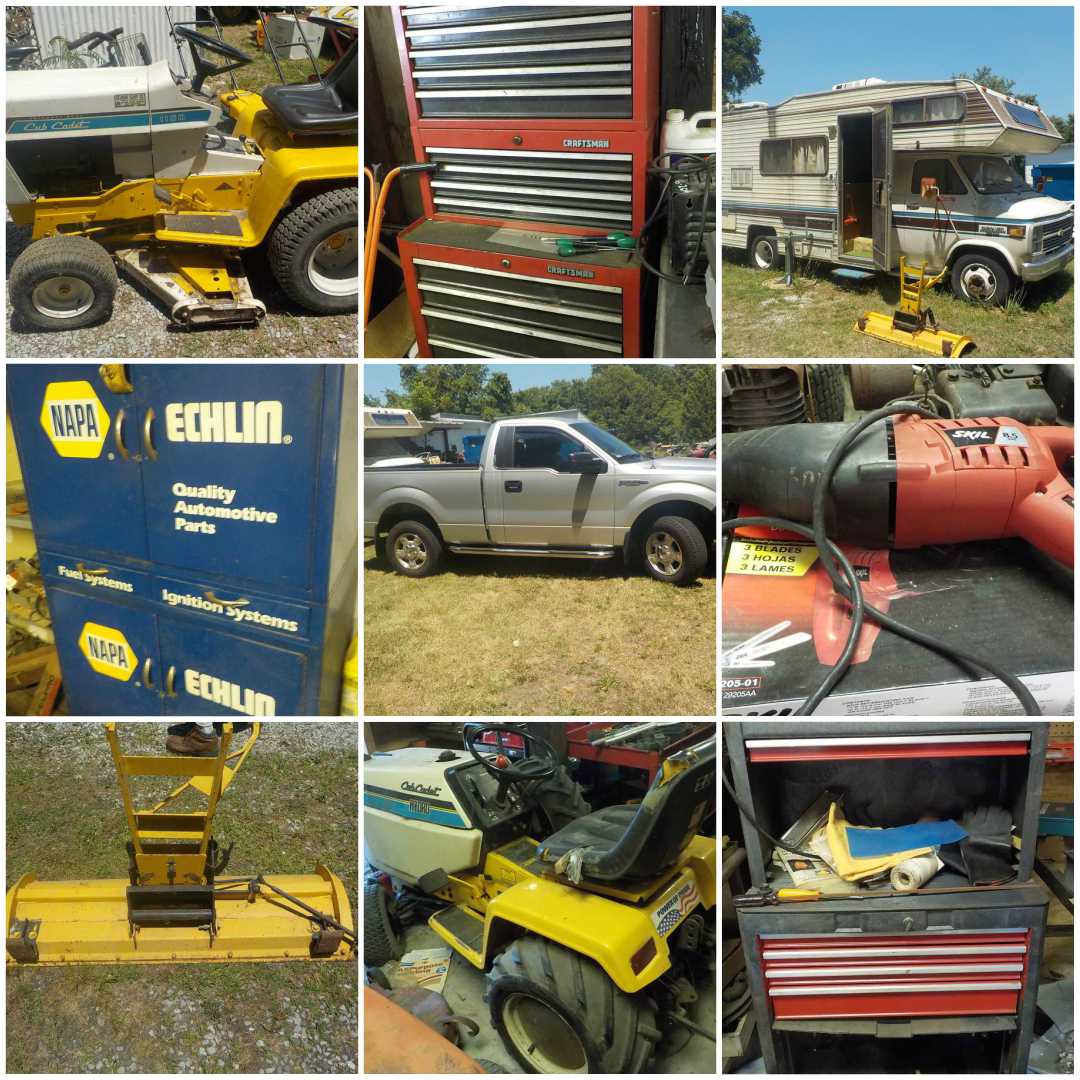 Estate of Jim Wade – 2014 F150, Tools, Mowers, Mower Parts & More..
Jim Wade was the owner of Wade's Auto Repair
This is a live auction only, it is a must attend!!
Only a partial of this auction
Vehicles – 2014 Ford F150 2 Door 8ft bed (23,339 miles), 1984 Tioga Arrow by Fleetwood Camper on Chevy Van 30 (66,244 miles)
Lawn Mowers – Turfmaster 14HP 45″ mower, Toro Wheel Horse Hydrostatic 12 ½ HP 212 hours, Cub Cadet 682 Kohler twin 17 motor hydro #123682399, Cub Cadet 1211 Hydrostatic 3pt hitch 12hp #147630100, John Deere Rototiller, Pull behind 44″ mower 10 ½ hp Swisher, Cooper Klipper walk behind 20″ model ACA20 56163, Allis Chalmers B12 003197, Yardman 6.5hp 21″ cut self propelled 6 speed push mower, Murray 20″ 6hp self propelled push mower, Murray 20″ classic push mower, 22″ cut mower with Briggs & Stratton engine 3.5 hp push mower, and more
Lawn Mowers for parts – 2 x Allis Chalmers 3 speed B10, Cub Cadet 105 Hydro, Cub Cadet 124 gear shift, Murray 18.5hp automatic, John Deere 110 3 speed with blade 12585, John Deere 70 3 speed 045628M, John Deere F525, Cub Cadet 1620 Hydro, Cub Cadet, Troy Bilt, Honda, Craftsman, plus roughly 50 other mowers, Gilson, Wheel Horse, Bolens, Murray, Sears, Case, Yard Machine, Lowes, MTD, Montgomery Wards and more
Lawn mower parts – 2 farm wagons full of lawn mower parts, Tecumseh engine (XL extra life, cast iron), Yazoo mower Eagle I, assortment of weed eaters (don't know if they run) and more
Tools – Snap-on, MAC and other name brand tools (wrenches, screwdrivers, etc…), bearing removing tools, MAC Tools bearing race & seal driver set NIB, MAC Tools 8pc brake tool set NIB, Torque & meter wrench, hex (allen) wrenches, MAC Tools tach, dwell-volts ohms meter, pry bar set, Century battery charger, 2 hand pumps, 6″ Tradesman bench grinder, Tradesman tool box (plastic), Tradesman tool box (3 tier), Classic Iron air compressor 6 ½ HP 60 gal tank, engine hoist lift on wheels, parts washer, tool cart, assortment of big socket sets, acetylene cart & tanks, Wards concrete mixer with electric motor, Wing Co Storm Master generator on wheels, Craftsman workbench with drawers, hand feed cart, Lawn mower lift with electric motor, Electronic Engine Performance Analyzer, utility trailers (homemade 10′ long x 6′ wide with electric winch), engine stand, table stand, Bishamon lift bench and more
Misc – old manuals, old license plates, NAPA parts bin with new old stock parts, metal cabinets, metal shelves, metal lockers, Borg Warner parts bin with new old stock parts, bolt bins with bolts, 2 set of oyster tongs with shafts, old chainsaws, stainless steel tables, wooden lawn mower tables, lanterns, old 5 gallon & 2 gallon gas cans, Vintage Coca-Cola machine (double doors), nuts, bolts, nails, 10′ x 20′ canopy, Centennial Tires 2 Sided Lighted Sign, John Deere Sickle Mower #7, Sears & Roebuck Sickle mower 917253120, Sears & Roebuck Plow – Disc – Cultivator, Agri-Fab 17cu ft dump cart, International Harvester 3′ blade, Craftsman Eager 1 vacuum, 2 seeders (1 cyclone 1 sears), Plant Jr. Cultivator, buoy light, Montgomery Wards seeder and more
Terms & Conditions: All items are being sold as is where is without warranty or guarantee, Announcements made the day of the sale take precedence over all advertising previously printed. Payments & Info: Cash, credit & approved check the day of sale with proper ID (checks over $1000 we require a letter of credit from the bank). 10% Buyer's premium. 3% Credit Card convenience fee.
Trice Auctions or the property owner is not responsible for accidents or losses while on sale property. Announcements made the day of the sale take precedence over any written advertisement.