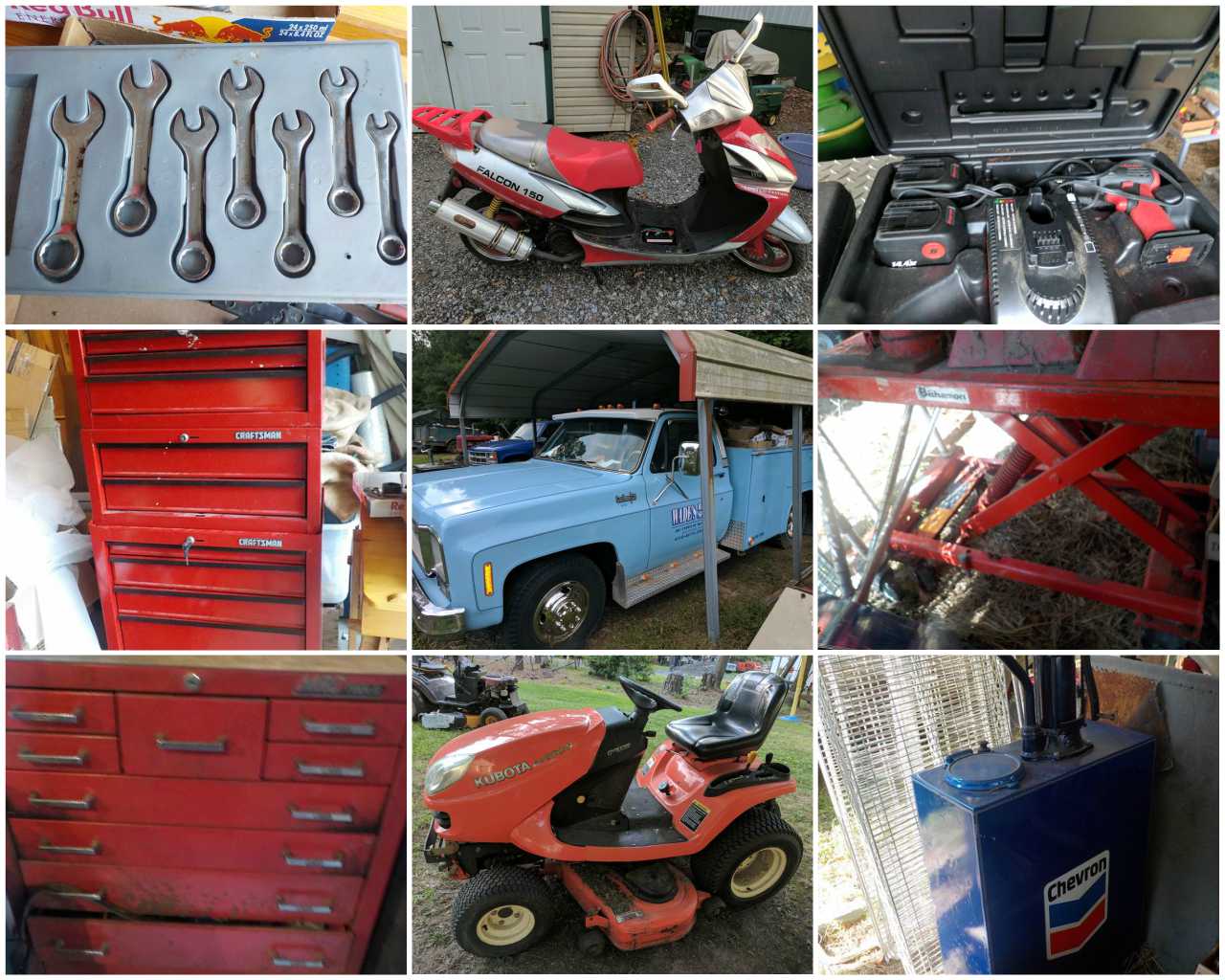 Estate of Jim Wade of Bi-Valve, MD
**TOOLS GALORE**
Mr. Wade had an assortment of TOOLS, ALL KINDS.
1973 Chevy Pickup – Custom 30 w/mechanic side boxes, 350 manual 4 speed, chrome wheels, 63,000 miles showing, runs great, NICE!!
ToolBoxes: MAC (two section top and bottom – top 7 drawer w/lock, bottom 10 drawer 5 large and 5 small), HOMACK bottom (9 drawer), MAC top (3 large drawers, 9 smaller), CRAFTSMAN 3 tier tool box all with locks and keys, small Craftsman,
Tools: MAC/Snap-on/Bluepoint/Craftsman – socket sets, snap ring sets, wrenches, valve tools, air tools, screwdrivers, vise grips, torque wrenches, pipe wrenches, adjustable wrenches, gauges, hammers, drill bits, bolt cutters, power tools of all kinds new in the boxes, c-clamps, large wrenches, , electronic testers, air hose reel, mechanic tools, ¼, ½, ¾, 1" socket sets, Dewalt Biscuit jointer, Hitachi Finish nailer, Compact belt sander, Multi-max tool, planer, Drybox of vinyl/metal siding tools B&D Impact, Saw blades for miter,
Other – Diamond plate pickup tool box, crank oil tank, aluminum wheelchair loading ramp, new shop parts cart, 2) hydraulic lift carts, golf cart charger, 4 lengths of black wrought iron fencing, 12 ft flat bottom aluminum boat, motor crane/lift
Parts – Bolts, new lawnmower fuses, lawnmower fuel filters, new lawnmower parts in box
**2 wagons of misc parts and accessories**
Farm related – 2) left handed Oliver plows, American Feed Cart, 2) pull behind lawn carts (1 17 cu. Yard), horse drawn cultivator, wooden wagon jack, tin seat, tobacco cutter
On-Wheels – Kubota GR2000 lawnmower w/glides steer, 48" deck, 976 hours, bagger, hydrostatic, w/snowplow and bagger, Limited Falcon 150 Scooter 1825 miles, new battery, Pikemaster 160 Starcraft boat and trailer w/40 magnum mariner outboard motor.
Signs – STP display, plastic Mobile, No Parking, Porcelain handicap, 10ton weight limit, Intersection sign, Stop Sign, 30 MPH Speed limit sign, Advertising – 5 gallon oil cans, thermometers – Bayshore foods, Caroline Foods, Phillips Oil, Paramount Poultry
Misc – wire display rack, Old license/tag plates (IA & MD) 1915/16/63/66/67/68/69/71.