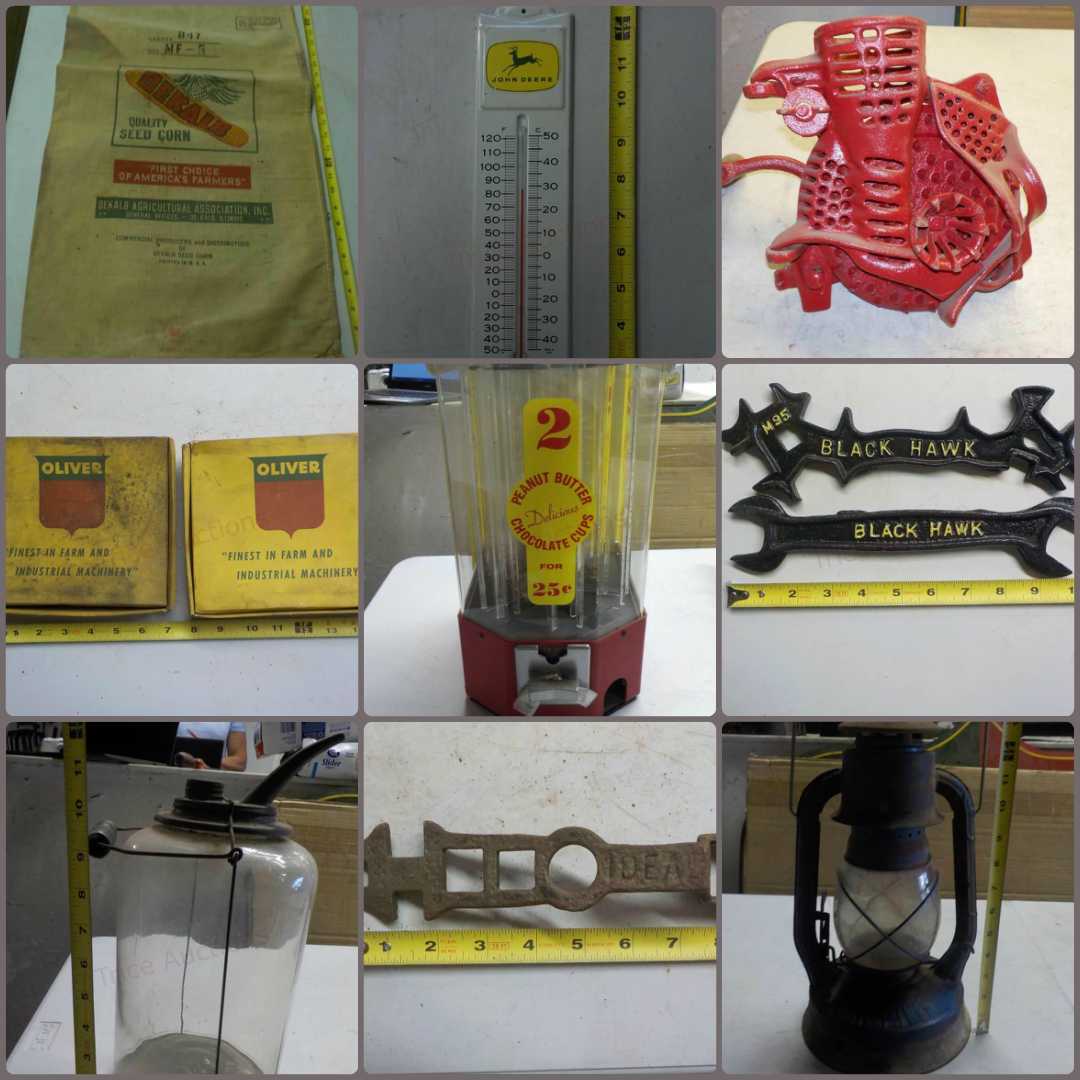 Farm & Americana Memorabilia Collection of Mr. Starkey Day 2
COLLECTION OF RAYMOND STARKEY of Felton, Delaware
Cast Seats, Hit & Miss Engines, Farm Related Items and Memorabilia
**Years of Collection**
SEATS/CAST – Cast iron tool boxes (McCormick Deering, Pattee, IH, John Deere), Cast Seats (Walter Wood, Deering, Worcester Buckeye, Hoosier, McCormick, Sattley, Milwaukee, Whitely, IH, William Doyle, Johnston Harvester Co., Champion, Acme)
FARM RELATED –Cockshutt therm Oliver Moldboard, Plow Clevis, Oliver Plow Sheer, Seed bags. Cranberry Rake, Lanterns, milk strainers, milk cans, reaper, scythe, cast pot, lightning rods, pulleys. Plow shears, stove dampers, seed bags, strawberry crates, Oliver grease gun, scales, Ontario Drill ends, Horse Collar, check row corn planter & wire, stove vents, corn knives, dehorners, gum ball machines, scales, Oliver Collector Bags, Oliver Grubbing Hoe, Oliver Parts Boxes, Corn Shellers (Black hawk, Corn King), 2 hole corn sheller, Monitor Wind Mill Pump,
ADVERTISING – Corn Shellers (Black Hawk, Red Chief and Fulton), Surge Signs, small oil cans, Thermometer (O.W. Livergood IL), IH Fire Extinguisher, Display racks, Victor Gasket rack, JD Case, IH tool boxes, Oliver Items (hard hat, outboard motor Mix-Matic Gas Can, signs) Oliver Valves, Empty Oliver Boxes, Yard Sticks (DE, PA, FL, Farm Bureau, New Holland, Hutchison Supply, Outten Bros,. Good Year, IH, JD, and more)

MISC – Wrenches (Oliver, Cockshutt, Ransoms, Pratt H&D York, Case, IH, Planter Jr., Blackhawk Iron Age, Fordson and more) Old telephones, Milk Stools, 5 Gallon Oil Cans, Buggy Jacks, Small Snapping Turtle lawnmower, Large Snapping Turtle Lawn mower,
HIT AND MISS – 1913 4 HP Fairbanks-Morris model H, 1911 4 HP Root Vandervort (Deere & Weber plate), 1915 5 HP Bulldog, 1921 2 ½ Fuller & Johnson, Motsinger Auto Sparker – last patent date 1903, Various Mags, 4 HP Monitor Vertical ball hopper, plus other hit and miss items.

SIGNS – DeKalb, Stairway, Oliver Country Road, Hazmat, Coca Cola, Pioneer, John Deere, Ford Golden Jubilee
Impossible to list every item!!!!