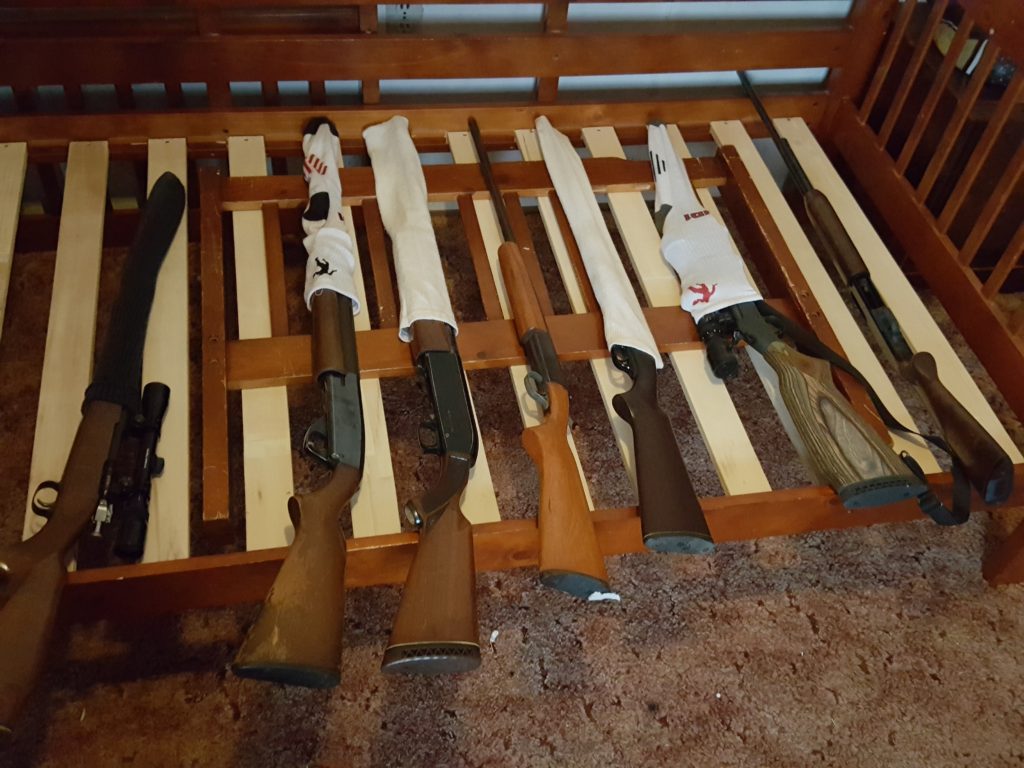 Guns, Ammo, Gun Tools & More Auction
Over 50 guns, ammo, fishing rods and much more.
GUNS ARE FROM A SINGLE ESTATE
Shotguns/Rifles – River Side Arms Co., Forehand And Wadsworth 12 Gauge Shotgun, G.R. B 1941 SHT L.E., PARTS – O.F. Mossberg & Sons Model 183DF 410, PARTS – Marlin Firearms Model 782 22 Caliber, PARTS – Ithaca Model 300 12ga, Sears Roebuck 20ga, Montgomery Ward Western Field Model 30 16 Gauge, American Eagle Model 66 16 Gauge, Winchester Model 370 20 Gauge, Mossberg Model 500A 12 Gauge Pump Short Barrel, Marlin Model 120 Magnum 12-gauge, Mossberg Model 500AT 12 Gauge, .50 Cal Black Powder, Remington 11-87 12 Gauge, Ward's Western Field Model 30 12 Gauge, Winchester Model 37 12 Gauge, Savage Stevens Model 58D-16 16 Gauge, Flite King Model K100 12ga, Smith & Wesson Model 916T 20 Gauge, J Stevens Arms Company 25 Stevens, Marlin Glenfield Model 60 22 Caliber, Winchester Model 94 30-30, KS 7.62 CJA SFLD MI With Bayonet And Scope, PARTS – Browning .22 Cal Long Rifle, Ward's Western Field Model 80a 22 Caliber, Long Branch No. 4 Mki 1943, Japanese Style Rifle, Japanese Style Rifle With Engraved Stock, Fabrica Dearmas Oviedo 1904, PARTS – Savage 22 Long Rifle, Marlin Model 80-DL .22 Cal S-L-LR, Marlin Model 80 22 Caliber S-L-LR, U.S. Springfield Armory Model 1903, U.S. Springfield Model 1903 With Custom Stock, C. Series 5mm (.20 Cal) Pellet Gun, Remington Sportsman 58 12ga, Sears Roebuck And Company Model 300 12 Gauge, Browning Auto – 5 12 Gauge Light 12, Browning Auto – 5 12 Gauge Magnum 12, Remington Model 1100 12 Gauge, MP-153 12 Gauge Semi Automatic, Savage Westpoint Model 167 Series D 12ga, Stevens Pump 22 Long Or Short, Brasileira 410 Made In Brazil, Spesco 410, Mossberg Pump 410, Terni 5.5mm Cal, Savage Springfield Model 511 12 Gauge, Savage Fox Model B Double Barrel 12 Gauge, Savage Fox Model B Double Barrel 410, Savage Stevens Model 59b 410, Baker Gun Company Double Barrel 12 Gauge, Crescent Firearms Double Barrel 12ga, , PARTS – Ranger .22cal S-L-L RM34, Bay State 12ga, PARTS – Harrington & Richardson Model 48 12ga
Black Powder – Vintage Black Powder Rifle, Thompson Center Hawken .50cal Black Powder, Mark Well Arms Black Powder .45cal, Traditions Tracker 209 Inline Black Powder 50cal, .50 Cal Double Barrel Black Powder, Connecticut Valley Arms Black Powder 12ga Shotgun
Pistols – Taurus .357 Cal Magnum Revolver, Raven Model P-25 .25 Cal Auto, Raven Model P-25 .25 Cal Auto, Davis Industries Model P-380 .380 Cal Auto, I.J. Double Action Model 1900 Revolver, Dreyse Auto Made in Germany, Davis Industries Model DM-22 .22 Cal Magnum, Alexis Revolver, Hand R Self-Loading .32 Cal Auto,
LLAMA .45 Cal Auto, Enfield No. 2 1940 .38 Cal Revolver, Vest Pocket Self Cocker Revolver
Pellet/BB Guns – Crosman 761XL .177 Cal Pellet Gun, Single Shot Pellet Gun, BB Gun, Daisy BB Gun
We will have an FFL Dealer on-site to process background checks, $25 charge per gun for background checks. To purchase a handgun you must have a HQL card. 7 Day hold on handguns. If you fail to pickup your gun in 30 days from the FFL dealer in Denton, MD. You forfeit the gun and your monies. If you fail the background check you will NOT be refunded any money. Buyer's Premium and Tax only applies to the purchase price of the gun(s) you purchase.
Terms & Conditions: All items are being sold as is where is without warranty or guarantee, Announcements made the day of the sale take precedence over all advertising previously printed. Payments & Info: Cash, credit & approved check the day of sale with proper ID (checks over $1000 we require a letter of credit from the bank). 10% Buyer's premium. 3% Credit Card convenience fee. On online items shipped out of the state of Maryland are NOT subject to a 6% sales tax.
Trice Auctions or the property owner is not responsible for accidents or losses while on sale property. Announcements made the day of the sale take precedence over any written advertisement.