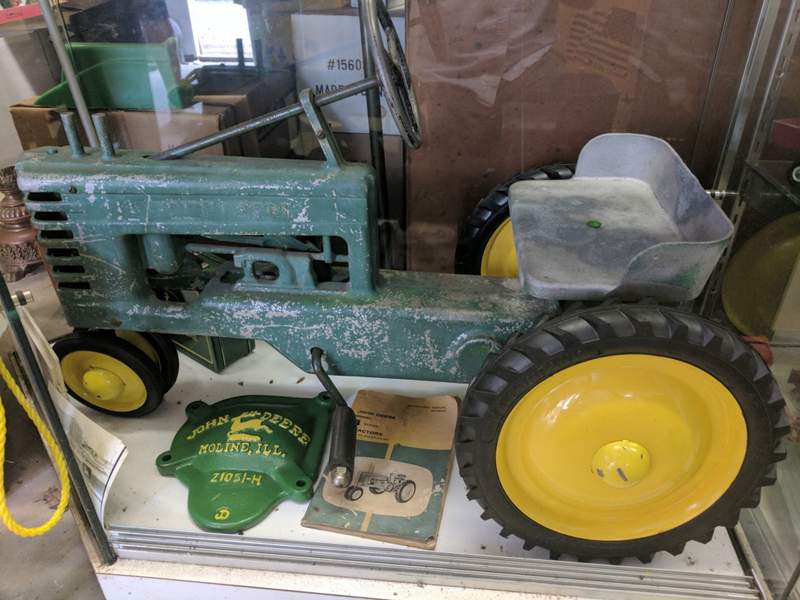 Massive Farm Toy and Farm Memorabilia Collection Day 1
Great 2 Day of Auction of Farm Toys, Farm Memorabilia and Americana from the Collection of Thomas Trice of Denton, MD. This will be a Live with Online Bidding Auction.
JD, Ford, Oliver, Allis-Chalmers, MF, MH, Case, IH, Farmall, Big Buds and much more – All scales 1/8, 1/12, 1/16, 1/24, 1/32, 1/50, 1/64 and others Pedals – Original 1949 Model A, 2 Row Corn Picker, New Idea Spreader, JD Crawler, Massey Harris Small 44, John Deere 620, Farmall F20, Allis-Chalmers D17 Black Grill, Oliver 2255 Cat Engine Serial #068 Tom Magnuson, Repo Model A & Coffin Block, Oliver Checkerboard and more Toys – JD 720 w/ Loader, JD 60 w/ Loader, Coleman Wheatley Model A Restored, 430 Custom 2 Corn Planter, Van Brunt Drills, JD Baler, JD 6600 Combine in Box, JD Loader in Box, JD Disc in Box, JD 4 row corn planter in ice cream box, ERTL wagons in box, 8630 custom, 4430 custom, 4240 custom, 4020 Coleman Wheatley, industrial 40 crawler, 4020 crawler w/ blade, 40 crawler w/ blade, 6500 sprayer w/ box, 8010, Yoder Plastic 1/16, 4455 4wd custom, JD 4 bottom plow in box, 2440 custom roll canopy and tricycle, 4 row planter in box, 4335 custom, 1010 custom, 3020 custom w/ fwd w/ 4 bottom plow, 4020 Org., 7020 custom, 6030 w/ 6 bottom plow, yellow gang disc, chainsaw toy in box, 60 w/ 2 corn picker, manure spreaders w/ long and short levers, 5010 w/ showcase precision key #25 in second series, 9600 combine in box collector, 5020 in green & yellow box, gunpowder 4520 in box, 7020 4wd precision key #7, custom 4020 diesel w/ turf tires, patio series some 3 w/ box and cart, newer patio series, Case Org. Black Knight 1070 no box, 1170 Demo, AC D17, 1/8 scale tractors, Big Buds and more, Coleman Wheatly oliver (1 row and 2 row corn picker, 77), pull type corn picker, various oliver, custom oliver tractor trailer, 1/8 JD Model B w/ 2 corn picker, Big Bud Series Tractors, 1/8 JD 4020 w/ Duals, 1/8 JD 720 /w manure spreader, 1/8 JD Model B wide front end, 1/8 Oliver Checkerboard 1800, 1/8 Farmall 560 All 4 Maroon Allis-Chalmers Tractors 1/16, Toy Farmers whole series, MF 510 Cast w/ 6 Row Corn Head and Combine Head Custom Made, IH 915 w/ gray steering in blue & yellow box, custom Gleaner L2 Combine (only 4 made), several other combines
Terms & Conditions: All items are being sold as is where is without warranty or guarantee, Announcements made the day of the sale take precedence over all advertising previously printed. Payments & Info: Cash, credit & approved check the day of sale with proper ID (checks over $1000 we require a letter of credit from the bank). 10% Buyer's premium. 3% Credit Card convenience fee. On online items shipped out of the state of Maryland are NOT subject to a 6% sales tax.
Trice Auctions or the property owner is not responsible for accidents or losses while on sale property. Announcements made the day of the sale take precedence over any written advertisement.